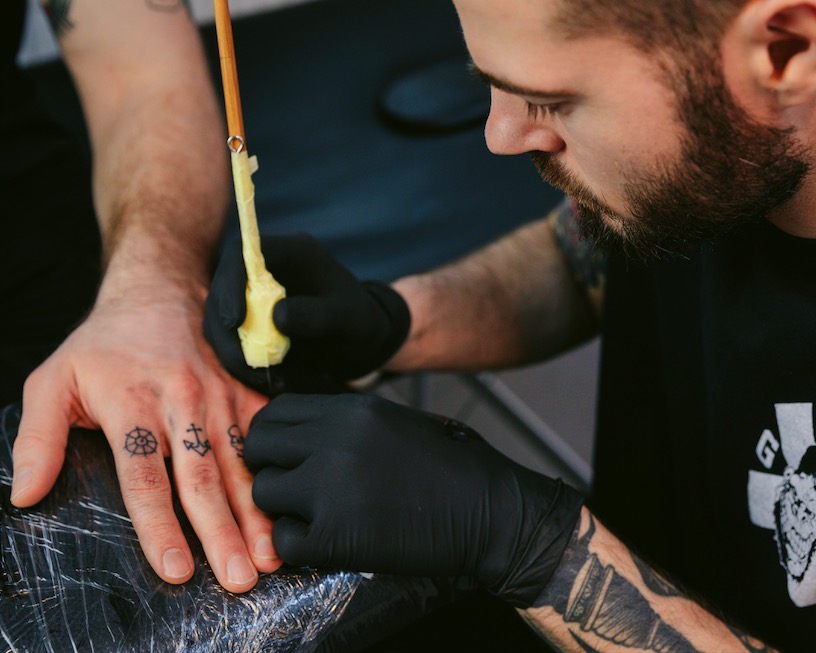 Handpoke in Central Berlin? We stand for solid tattoos that will stay with you forever! For fine line designs on fingers, palms, ears or other sensitive areas, Sebastian Aurich has specialized in the Handpoke tattoo process to achieve the best results for you.
delicate finger tattoos
Since tattoos on visible spots get more accepted the customer getting their hand tattooed are not anymore heavy tattooed people. If you have only a few tattoos or almost none, this one tattoo on the finger should look delicate.
The handpoke process guarantees this delicate look. Due to the slow, very controlled incorporation of the pigments into the skin, the latter is less damaged and your tattoo can thereby heal well. For all the undecided so far, the Handpoke method is a great way to make your wish-tattoo on the decided places a little less painful and more relaxed.
less painful Palm Tattoos
Handpoke tattoos are not only a great way to tattoo the Fingers and Nuckles. Sebastian also made some very nice designs for the palm of the hand. For those who know the feeling of getting this hotspot tattooed by coilmachine, they will feel like heaven after a handpoked palm. So much less painful.
Jewellery and Patterns
Aonther great spot which is hard to reach with a tattoomachine is the ear. You can handpoke this spot quite easy without a blowout and can create jewellery which last forever. You want a sinking ship, sunrise with swallows or just a line in the ear? We can do it.
Handpoke Designs can be patterns used by berbers and tribes hundreds of years ago or simple linedesigns. The Japanese and Traditional world of tattooing has the best clear variety of line designs.
For further questions about the Handpoke simply pass by our tattoo shop in Central Berlin and let Sebastian advise you.