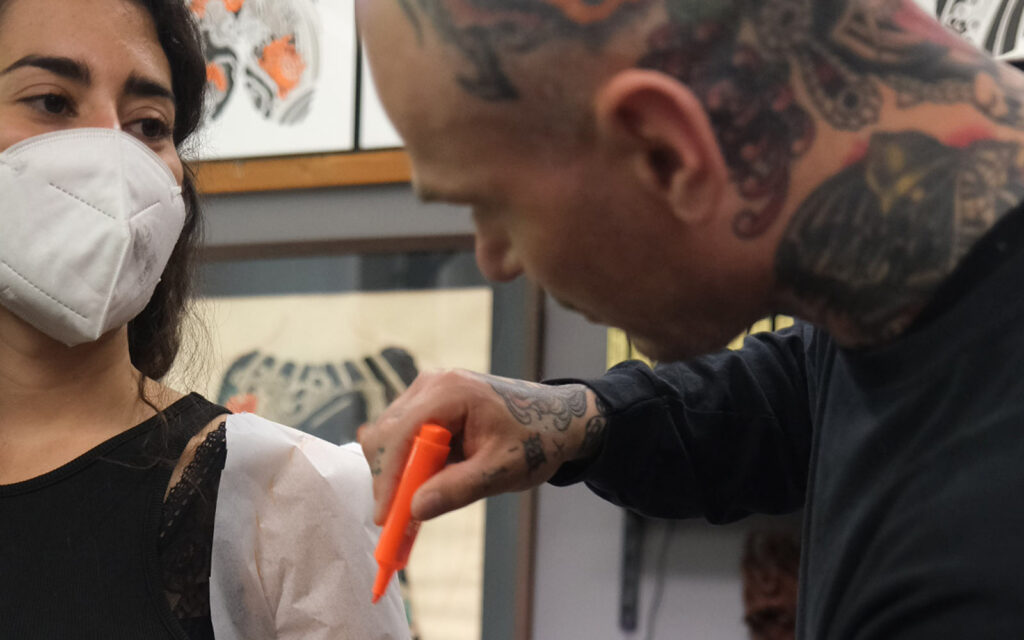 When it comes to a beautiful tattoo, there are things you should already know in advance and not just in hindsight.
Recovery
Please try to rest as much as possible on the day before the session, so that you can sleep well and come to the appointment relaxed. This includes, during the previous days and nights, abstaining from drugs and alcohol.
Food
Before you come, please take the time to have breakfast/to eat and drink. Tattooing is stressfull for the body. By getting enough food, you prevent yourself from having circulatory problems during or after the session. Also, even if it's not always avoidable, you should try as much as possible not to be anxious. In any case, please have enough time for the planned session.
Hygiene
Please refrain from shaving the area of the body to be tattooed in advance, we'll do it in the studio. As well, avoid morning body lotion, which could complicate the tattooing process quite a bit. Please be so kind as to pay attention to your body care. In case you're out for a long time before coming to your appointment or you spend the whole day at work, please take the time to plan a short detour at home and take a quick shower and, if necessary, change your clothing and underwear. In particular, please pay attention to your feet and intimate hygiene.
CLOTHES
Even when choosing your clothes, there are a few rules. Avoid tight clothing that exerts pressure and better choose lighter clothing. Pressure points from bras, waistbands or socks can heavily affect tattooing. Do yourself a favor and do not necessarily wear your favorite shirt or brand new sneakers. Even with calf tattoos, please bring comfortable shorts with you, tight pants interfere with tattooing. During the session it can easily happen that ink or blood comes into contact with clothing and we are not liable for such damage. Basically, come with or bring with you comfortable clothes, in which you feel at ease and can, in case, get dirty.
ACCOMPANIMENT
Especially if it's your first tattoo, it's completely understandable that you'd like to have someone of your friends or family by your side. However, experience has taught us that it's more enjoyable for both the client and the tattoo artist when you come to your appointment alone. Their company unnecessarily distracts you, this means you cannot take good care of the pain and therefore the perception of it increases. An absolute no go in the tattoo studio are, on one hand, children and, on the other, dogs and other animals. Apart for hygienic aspects, both bring unnecessary unrest to the studio. Glass bottles, drugs or alcohol are just as well undesirable.
SMARTPHONE
We love talking to our customers and hearing their interesting stories. Many customers appreciate this at Good Old Times Tattoo and enjoy the Digital Detox during their tattoo session. So that you also have a fantastic experience with us, we ask you to switch your smartphone on flight mode and put it away while getting tattooed. In order to protect our privacy as well as our customers', we ask you to previously ask us if you can take a photo or make an Instagram story. Photographing the designs on the walls and in the portfolios is prohibited. Similarly, phone calls, loud games, music or videos are undesirable so, in this case, please have a cup of our delicious coffee and go outside. The other customers will thank you.
DISEASES
If you suffer from any kind of illness, or are currently under medication, it is imperative to let us know in advance. There are corresponding fields on our "Declaration of consent". In particular, blood thinners or various allergies (eg to latex, nickel, etc.) should be discussed with us. Please make sure that, if you're not feeling well on the day of your appointment, you must also write this on the form and personally speak to the tattoo artist before getting tattooed.
We do not tattoo anyone who has hepatitis or AIDS, we hope you understand. Likewise, during pregnancy and while breastfeeding we will not accept you as a customer. If in the near future you have scheduled surgery or a medical examination, this should also be discussed. Often it is better to arrange the appointment afterwards. Please be honest with us, only in this way it will be a great tattoo experience for us all.
TATTOO-MOTIFS
As a matter of principle, no preliminary designs will be sent by e-mail or otherwise. If you have any concern that needs to be clarified beforehand, feel free to visit the shop. We are certainly willing to satisfy your desires in order to achieve the best possible result.
CANCELLATION
Please read our Blogpost: Appointment deposit !
If for any reason you are unable to attend your scheduled appointment, please let us know at least 7 days in advance. If not and you miss it, the deposit will be forfeited. In case your tattoo takes several sessions, the deposit will be dedacted only on the last appointment or after . Attention: tattoo dates are not transferable. If you have problems of any kind please call the shop immediately and do not wait until it's too late.
AFTERCARE