Owen Jensen, born in 1891 in sleepy Pleasant Grove, Utah, first got in contact with tattooing at the age of 20 while visiting the 'Buffalo Bill Wild West Show'. It was there that he saw James Malcom, a fully covered tattoo circus attraction. Malcom got his bodysuit by no one else than Charles Wagner! Two years later, Jensen got his first tattoo by Bob Hodge from the 'Lucky Bill Show'.

Owen Jensen had a hand for fine mechanics and soon he received a job offer for building tattoo machines in a shop in Detroit, working for J.G Barber. The young Jensen was fascinated by the way the tattoo machines worked and soon learned how to tattoo.
How to paint during WW I
As was the fate of many young Americans in 1914, Jensen had to enlist to serve in World War I. When he wasn't overseas to fight, he was at an army base in Grand Rapids, Michigan. It was the same city as Edwin Brown was living in at that time, who would teach Jensen how to paint flash.

Nothing kept Jensen back in service after the war ended. He soon returned to his hometown to follow his real passion. He turned the trunk of his car into a mobile tattoo studio. With it he would hit the road and tattoo in various cities and shows in all of America. In 1923 he reached Los Angeles for the first time. Here he spent most of his time till his death.
Love at first sight: Jensen and the city of Angels
In Los Angeles he worked in various shops around the city, some recognisable characters he worked with were Julian Jack and Charles Barr. In the beginning, he spent a significant amount of time in the bustling harbour-suburb of San Pedro.

The time spent in San Pedro really influenced his designs, as he was mostly tattooing sailors. It's no surprise that you can find a lot of sailors in his designs. One thing you'll notice soon is that most of them are female. Also pirates, sailing ships (of course), dragons and lots of hearts including the names of loved ones can be found on his flash sheets. The American Flag as well, as good luck charms for the leaving sailors, were also some of his most favourite pieces.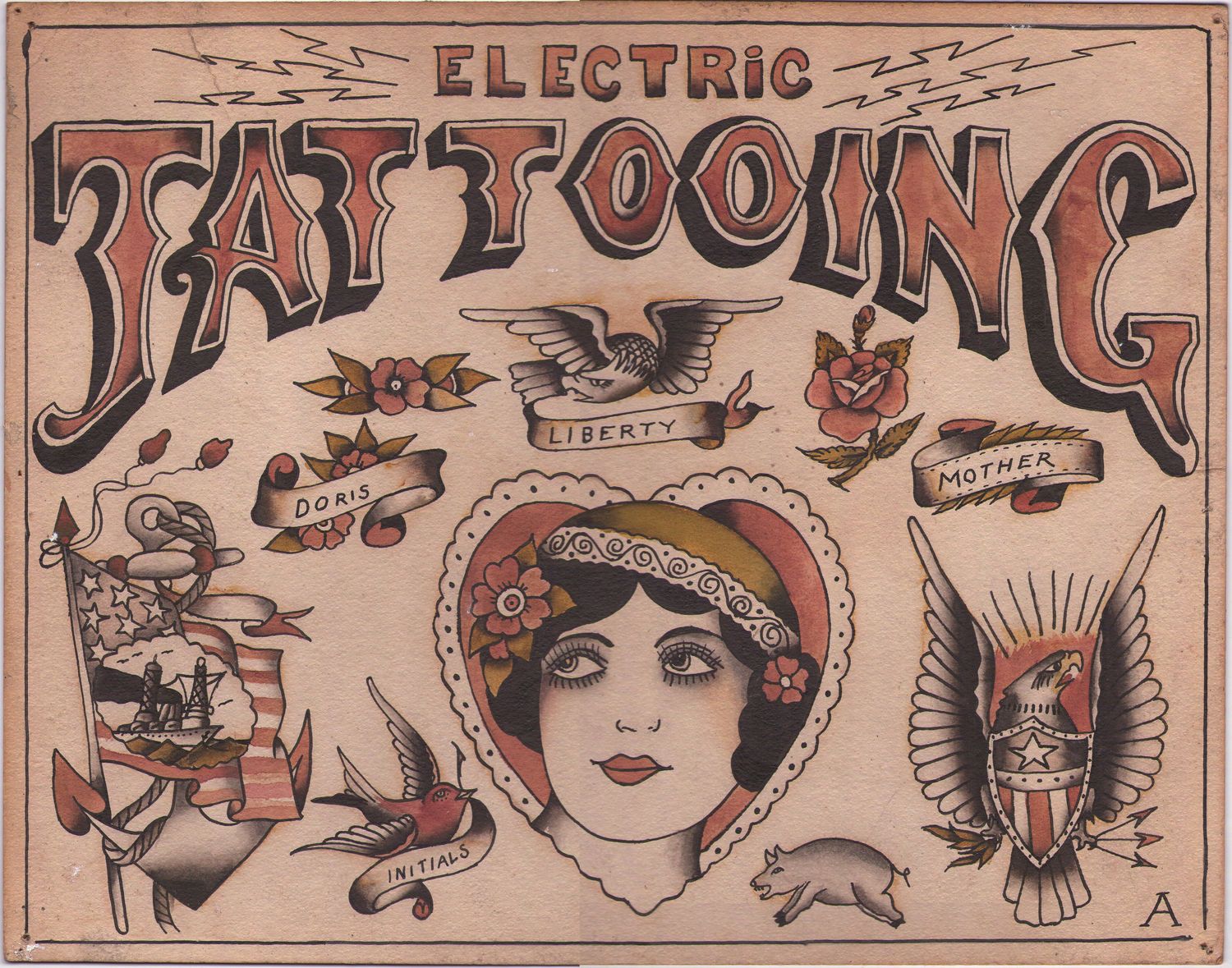 His designs include a lot of red and black, which was pretty usual at that time, as there weren't many colours for tattooing available. Some of his original acetate stencils are highly coveted collectibles today.
When Jensen wasn't in the city of Angels, he was working all around the country. His colleagues were legends like Lou Norman, Andy Sturtz and Cap Coleman.
Best tattoo supplies in the West
In 1934 Jensen started building and selling his own tattoo machines. It didn't take long for the word of mouth to travel up and down the coast. Shortly after, he was running the biggest tattoo supply business on the west coast. Still today, his style of machines is one of the most desired. You can find a Jensen-style machine in nearly every tattoo shop around the world. Even here, at Good Old Times Berlin, you can spot a Owen Jensen-style machine. If you are lucky enough, you might have your next piece done with it.
The "Fat Lady"
In the mid 40s Jensen married the circus attraction "Fat Lady" Dainty Dotty. That name didn't come out of nowhere. She put a decent 270 kilos on the weighing scale at the time of their wedding. She also was a quite well known tattooer and they both worked together in Long Beach. If they ever tattooed each other, is unknown.

Only three years after the birth of their son, Dainty Dotty suddenly died from a heart ailment in December 1952. This event hit Jensen badly. He had troubles raising his child, running the tattoo supply business and tattooing all at the same time. He decided to close down his tattoo supply business and concentrate fully on tattooing and his family. During that time, he was working with no one less than Bert Grimm at Grimm's shop in Long Beach.
Who owes Owen Jensen thirty Dollars?
Fast forward 20 years to 1976. One night, Owen was working in Lee Roy Minughs shop, with whom he was working together at this time. The area where the shop was located became more and more dangerous over time. This forced Jensen to always carry a loaded gun with him to the shop. That night, a few punks decided to rob the shop and surprised Jensen, who didn't have the chance to grab his weapon in time. The robbers left a badly injured Jensen and hit the road with only thirty dollars.

Jensen never fully recovered from the injuries and died only a year later on July 24, 1977. He was 85 years old and had tattooed until he was 84.
If one of the designs of this tattoo legend inspired you your next tattoos, reach out to us through our contact form and book your next appointment 😉
Your Good Old Times Tattoo Team