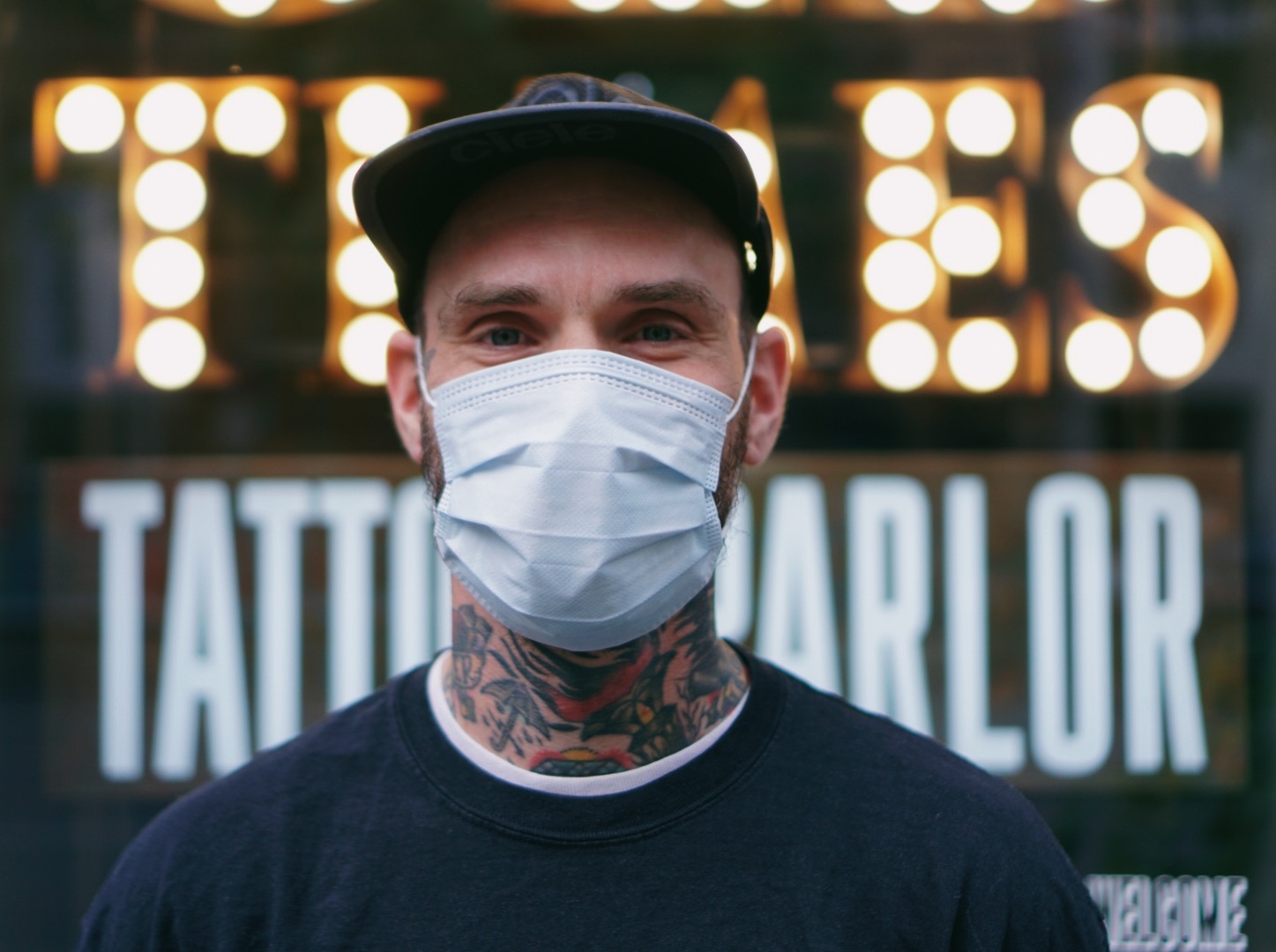 Tattooing during the Corona pandemic? Until recently hardly conceivable. Nevertheless, we are going to open our shop again as from 9th of may. However, the only way to do this in a responsabile manner is by making a few basic changes in our working organization. The most important thing: Don't come by without an appointment! Please call us first!
The fact that we are allowed to reopen at all after 2 months in lockdown came as a surprise even for us. Although we have already prepared ourselves internally, the situation is still new for us. That means we also have to get into the groove for Tattooing during the Corona pandemic. Therefore, we ask for patience and understanding. We will gratefully take into consideration any feedback and/or support.

We have developed a hygiene concept that will allow us to offer a tattooing service during the pandemic. We've done this to protect both your and our health by keeping the risk of infection as low as possible. For this reason we've started adjusting the shop by rebuilding it during the lockdown. But also at this (construction) site we ask for your understanding and leniency. After all, both your and our health come first.
Your tattoo appointment
Although our doors will remain closed most of the time, our opening hours remain the same. But beyond that, there are some things we have to consider together during these days:
We are terribly sorry, but spontaneous visits are not allowed at the moment. That means, whoever comes without a previous booking, must stay outside.
Access to the studio by appointment only! We have no waiting area!
In order to guarantee a smooth and contactless process, please come on time, ring the bell and wait until your tattoo artist invites you in.
The glass is not half full, it is completely empty, since at the moment we cannot serve drinks. Please come with your own drinks and stay sufficiently hydrated – not only during Corona!
To ensure the highest standards of hygiene, we have to ask you to wear only medical masks in our shop (no handmade ones are allowed). You can also buy one from us if necessary.
Stay clean! Be sure to wash and disinfect your hands when entering the shop. If you have sensitive skin, please bring your own disinfectant.

And don't be fussy! If you feel sick, please postpone your appointment!
Walk-In
Walk-ins become call-ins. As we said, we can't allow you access to the shop without an appointment. Nevertheless, spontaneous tattoos are possible. Please call in advance and inquire about free capacities.

Consultation
Unfortunately, we cannot offer on-site consultions. Please send us a detailed email with your ideas. Call us a short time later and we will clarify everything on the phone.
Deposit
Sadly, cash is nothing real at the moment, that is why down payments are also made contactless. In order to make these payments, please buy a voucher in our online shop, stating your artist and the date and time of the appointment.

Touch-Up
Also the follow-up check is currently not carried out in the shop. Please send us high resolution pictures of your healed tattoos after about 6 weeks. If there are any irregularities, please do not wait 6 weeks but contact us before.

Wanna Do´s
Our tattoo artists have a bag full of Wanna-Do's. But for hygiene reasons we can't keep our books on the desk. Once you book your appointment and you come to the shop, if interested in having a look at them, feel free to ask your tattoo artist to hang them out to you.
Coffee and Chat
Only those who have an appointment are allowed to come in. Therefore, please write us an email or call us for any questions. At the moment we only accept expressions of affection in the form of love letters.

The whole Good Old Times Tattoo Team works on the best solution for tattooing during the Corona Pandemic and keep the highest hygiene standards. In this way we want to protect your and our health and offer you the upmost level of security.

Thank you very much for your patience, your trust and your support!
Stay healthy.
Your Good Old Times Tattoo Team