Yokai who?
Despite worldwide travel warnings by the German Foreign Office, today we want to dive together with you into the Yokai world. Yokai are mysterious Japanese folklore creatures that can shape into a variety of forms and species. They appear when the explanations of how our world functions are no longer sufficient to correspond reality.

Yokai are a vague feeling; as an intuitive hunch that something is wrong. It's like finding an affordable apartment in Central Berlin. Nice, but where is the deception? But Yokai are also real things that you don't pay attention to. For example this second funny eyelet that somehow is there when you reach the top while lacing up your sneakers.
If the noise in your apartment isn't coming from the techno party in the flat above yours, then it could be the work of the Yanari (house cricket). Little Oni-like creatures, who are said to play their latest Ghetto House records like a poltergeist at 3 a.m. without being asked.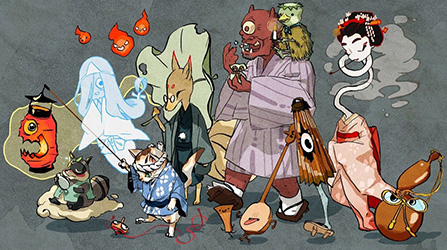 Folklore
Yokai stories educate the Japanese youth about dangers or consequences of their own actions. Thus, Kappa personifies everything that sucks about water, i.e. is dangerous. On the other hand, you also run the risk of becoming a Hannya if you are obsessed by negative feelings and thoughts. So please, good vibes only! 😉
You might realize now that it's not so easy to name a Yokai. There are no definitive images showing Yokai in their "true form". Yokai live in the narrow zone between fact and fiction, somewhere between faith and doubt. And because, as we said previously, in the Yokai world everything is a bit vague, there is a lot of freedom in designing.
Japanese Tattoos in Berlin
To be able to create authentic Yokai tattoos, Swen has made it his business to research about Yokai tattooing and its background. This is why we will take a closer look at some of the most famous Yokai in the future and try to dive even deeper into the Yokai world with you. For example, we want to deal with characters like Kappa, Hannya, Oni, Tengu or Kitsune. Creatures that are not only known through the tattoo world, but also from various mangas and anime.
If you want to create your own Yokai design, contact us and let's make an appointment! Use our contact form to send us your request or simply pass by the shop 🙂
We look forward to get creative with you!
Your Good Old Times Tattoo Team