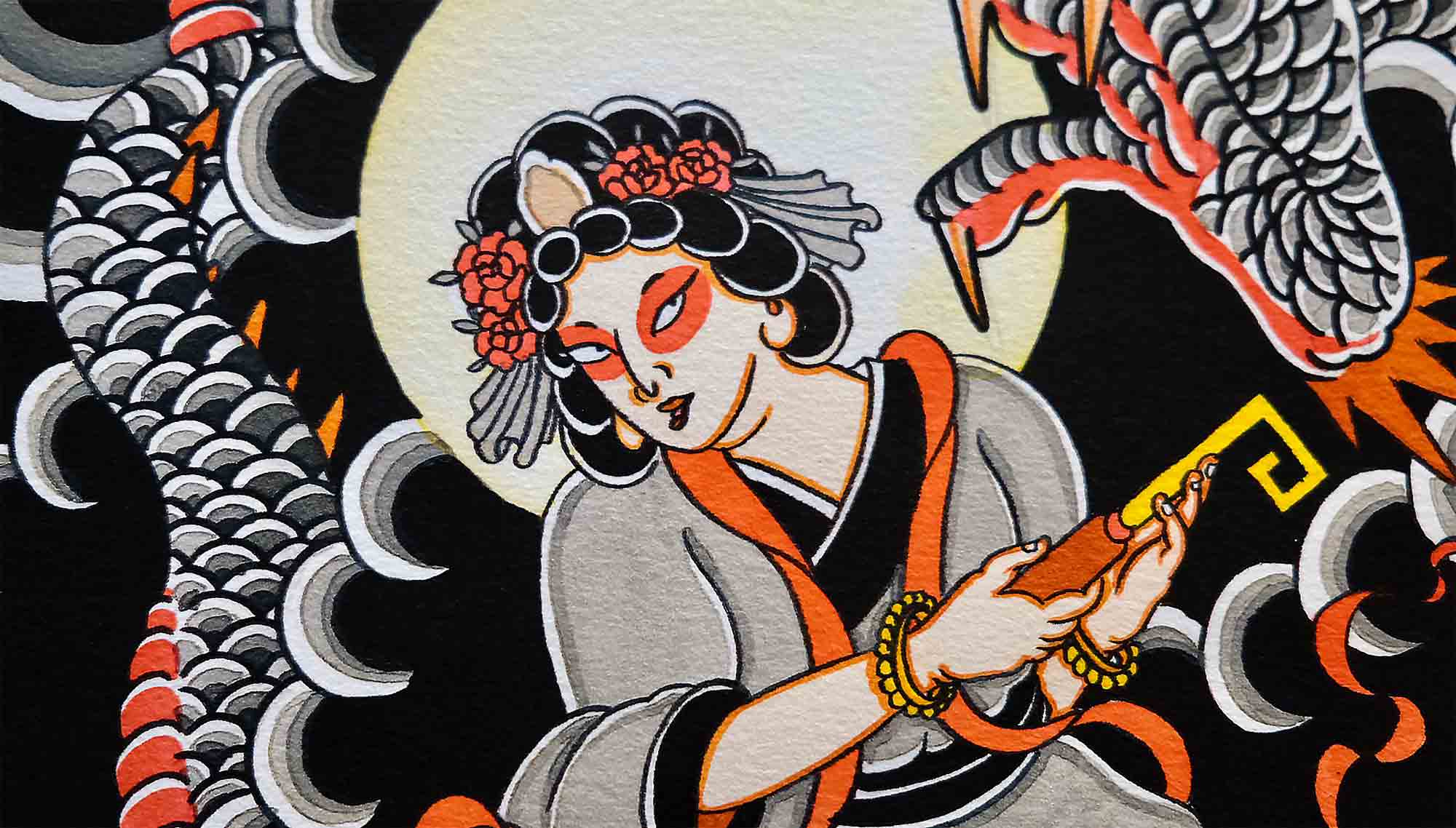 If you think of the word "happiness" surely many different thoughts will come to your mind. However, if you take a look at Japanese culture, you will quickly come across Benzaiten and the Seven lucky Gods (Shichi Fukujin).
In our upcoming blog post, we will explain you their meaning and origin bit by bit. We will start this series with Benzaiten, the only female deity among the seven gods. In this sense, we call it Ladies First.

Takarabune – the treasure ship

The Seven Lucky Gods are a group of traveling deities bringing luck and good fortune to the people of Japan. They meet on New Year and travel across the sky in a treasure-laden ship. They gather in a great feast or occasionally go sailing in a giant vessel called the Takarabune. In their luggage they have seven immaterial and five material treasures. Among the immaterial treasures are, for example, knowledge and luck, while the material treasures are something like an inexhaustible purse or a magic wooden mallet (Uchide no kozuchi).

The goddess of water

Benzaiten, the goddess of water also known as Besten, is a Japanese Buddhist goddess who originated from the Hindu goddess Saraswati. She is the only consistent member of the Seven Lucky Gods who always appears as female. Benzaiten rules everything that flows: water, time, words, speech, eloquence, music and knowledge. She is also the protector of geishas, dancers, musicians and arts in general. As a water goddess, the companions of benzaites are typically a white snake or a dragon. According to a legend, she even tamed a child-eating dragon by marrying it. Most frequently Benzaiten holds a biwa, a traditional Japanese stringed instrument, very appropriate for the goddess of music.

Benzaiten as tattoo motif
As in the figure of Benzaiten various influences come together, her representation developed over the centuries. For example, some representations include a key of luck and a dragon, instead of the Biwa.
For his backpiece project, Swen preferred the representation that includes clouds instead of water, the key of luck and a dragon. Following this structure there is still the possibility to extend the motive to a bodysuit.
As you can see on Swen's design, the goddess Benzaiten is ideal as a Japanese tattoo for the back or a sleeve. If you want to go deeper into the subject or if you would like to start a tattoo project, contact us via our contact form.
What the other lucky gods stand for, we'll explain to you in our next blog post.
Stay tuned!!!!