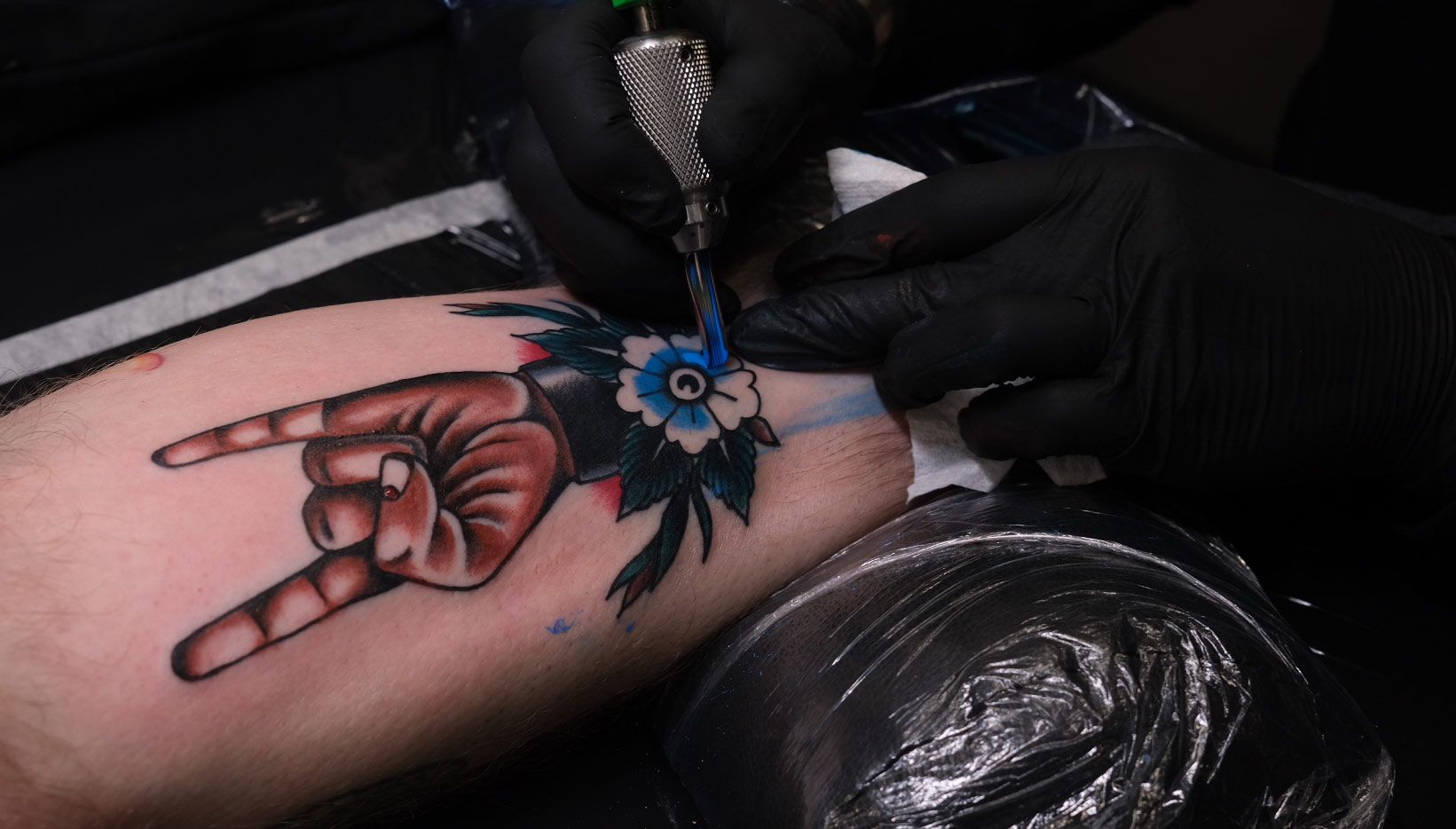 The summer season is coming and for most of you the desire to make custom walk-in tattoos in Berlin reaches its peak.
Below we give you some hints for how to best approach a custom walk-in tattoo. Such as, what it's possible to do as a spontaneous tattoo and when is it better to book a tattoo appointment instead. Keep in mind we are a custom tattoo shop specializing in Old School and Japanese style. We are fully booked very fast and cannot promise that we will tattoo your desired design as a walk-in.
If you already know what you would like to do, our team strongly recommends you to contact us before coming. Write us via email at info@goodoldtimestattoo.com or use our contact form to get in touch with us.
Crazy tiger
Since years Swen Losinsky has been tattooing his crazy tigers on customers from all over the world. Over time they have become his hallmark. Each tiger tells a different, special and personal story. None of them are done twice – they are unique.
Swen always has crazy tiger wanna dos in the shop waiting for you. Most of them are also doable as a walk-in tattoo. If instead you prefer to have a customized one, contact us first to book an appointment. After telling us your story Swen will create your very own crazy tiger.
loose lips and sinking ships
An important part of traditional tattoo culture are ships. As a sailor you could only get a ship tattoo after sailing to Kap Horn. In fact, having this tattoo means that you have completed an exceptional task.
Have you achieved an important goal in your life? Then this is for you! We have some old school ship designs already waiting for you here at Good Old Times Tattoo Berlin. A small ship we can surely tattoo spontaneously. If, on the other hand, you wish to have a bigger ship, you need to book an appointment. The same goes if you want to add elements like roses and pin ups to a small ship. Small nautical designs matching swallows and anchors can be a perfect walk-in.
By the way, a great album of the same title by When We Were Giants, it's worth listening 😉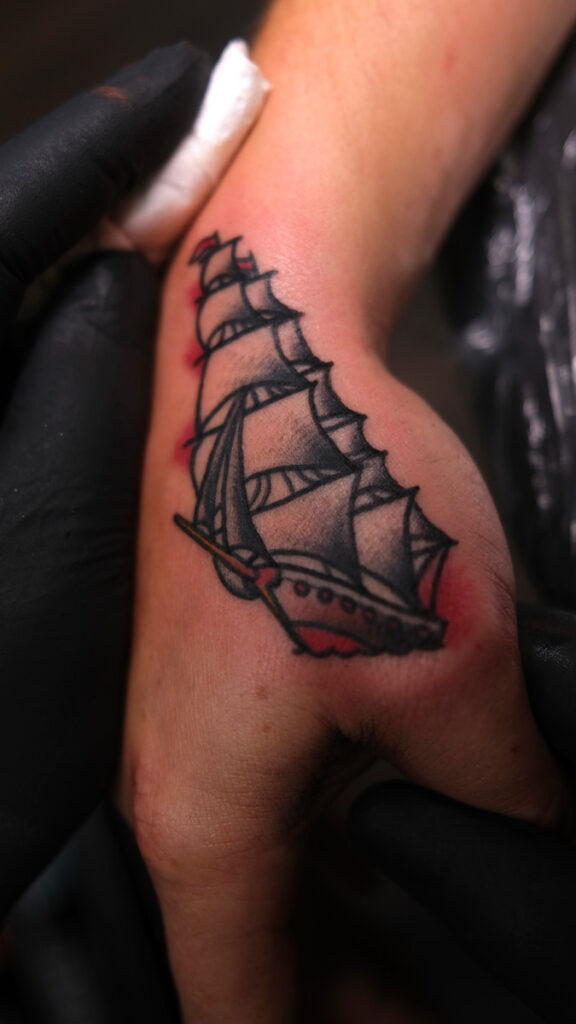 Girls girls girls
The classic of the classics are pinups and women's heads. From the Dietzel girls to "The Rose of No Man's Land" there is a wide variety of ladies to choose from. If there is enough time we can definitely tattoo them as walk-in, if picked from our flash books. But if you ask us for the best option, we recommend you to contact us first. Since preparing such a design takes time, to make your sexy lady special, we recommend booking a slot.
Roses and daggers
Is there a better filler than a rose? We love to draw roses directly on your body in order to adapt them to any shape. You can make them in a very simple and classic way as well as modern and detailed. We have some flash designs of roses to give you some inspiration but most of the time we love to personalize them and draw them directly on the body. If you still cannot decide, we also have plenty of books to show you the different possibilities. We can tattoo roses and other flowers as a walk-in depending on the size and body part.
Daggers can be your next badass design in your collection. This symbol of pain and strength often goes together with a heart, love letter or snake. Depending on the size, the traditional dagger is a perfect walk-in tattoo. Contact us first if you prefer a dagger matched to another item. In that case we prepare the design in advance so that it fits perfectly to your specific desired body part.
Japanese Masks
Japanese masks get more and more known in the European tattoo culture.
In Japan the most famous and well-known masks are certainly those used in the Noh Theater shows. Noh masks are called "noh-men" or "omote" and today there are more than 200 different types. The Hannya mask is probably the best known and most evocative. Hyottoko is a mask that portrays a funny character with the bowl tilted to the side and curled. Then there is the Kitsune mask which symbolizes the spirit of a fox, the Oni mask which is meant to scare away evil spirits and protect people from their dangerous influence, and the Tengu mask which is said to bring good luck to the wearer.
Swen has lots of designs ready for you in his flash book, including a huge collection of Japanese masks. It's definitely worth seeing! Most of his designs can be spontaneously tattooed. Coming to the shop as early as possible during a walk-in day increases the chance of getting one of these tattoos as a custom walk-in tattoo.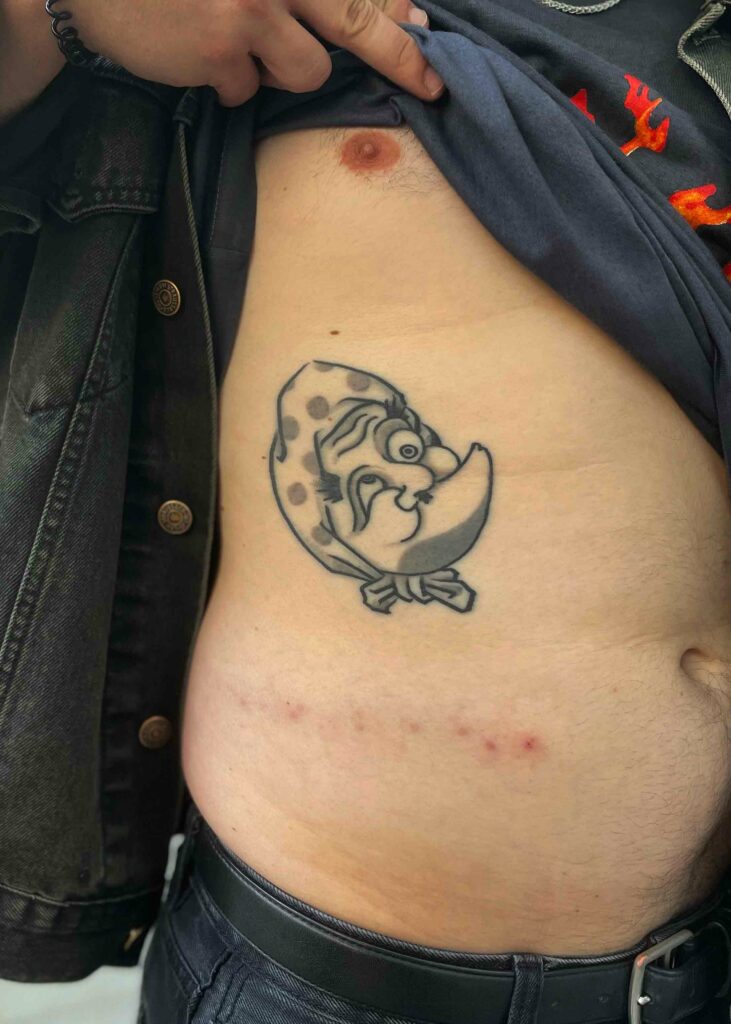 Butterfly
The butterfly tattoo is an option chosen by many not only for its beauty and aesthetics but also for what it symbolizes. Its most beautiful meanings are vitality, good luck, joy and new beginnings.
Being specialized in Old School style we obviously prefer to tattoo a traditional butterfly, which could be done as a custom walk-in tattoo. On the contrary fineline butterflies are usually more detailed and it might not be possible to make them spontaneously due to lack of time. As already mentioned, come as soon as possible to the shop or reserve your slot in advance.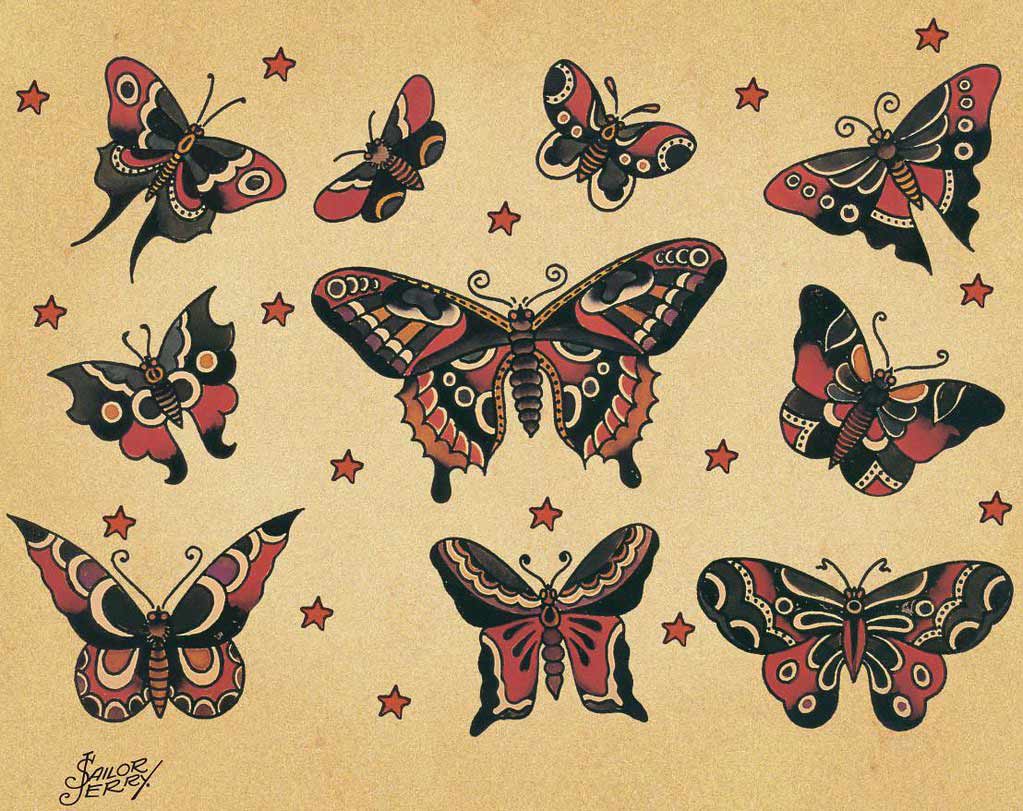 majestic dragons, evolving kois and rising phoenixes
Our shop philosophy is to create tattoos that last forever. Not only from a technical point of view the tattoo should be done with the utmost attention, but also the design itself should be prepared with love, full dedication and not in a hurry.
Dragons, kois, and phoenixes are very detailed subjects that take time to prepare and tattoo. That's why we don't tattoo them spontaneously as custom walk-in tattoos.
To tattoo a dragon, a koi or a phoenix you need multiple sessions. If you want you can also book two appointments in a row to get a cool big scale Japanese tattoo done in a short time. In general, we do not recommend booking more then 2 or 3 days in a row. That said, for obvious reasons, such a project cannot be started spontaneously. In order to ensure an optimal result you must first book an appointment for a consultation. Find more information about it in our blog post "Tattoo consultation".
Good Old Times Tattoo Berlin does not tattoo Japanese subjects in a fineline style or in small sizes.
crawling panthers and roaring tigers
Other designs that have made the history of traditional tattooing are panthers and tigers.
Panthers are beautiful and powerful jungle predators. A panther tattoo can symbolize power, courage, guardianship and freedom. When choosing a design for a traditional panther, there's a huge variety to choose from. One of the most popular is the crawling panther, which can be beautifully paired with a snake. Alternatively, the customer can opt to tattoo only a panther head which can usually be combined with a rose or a dagger. A whole panther or even just a head are tattooed only after prior appointment.
Tigers, a symbol of willpower, courage, dignity and ferocity are a perfect option in Japanese style as well. In his flash book Swen has not only whole tigers waiting for you but also wonderful tiger masks ready to end on your skin. Depending on the size, a tiger mask could be a great walk-in choice. As always, the best option would be to book an appointment a few days in advance. This way you also have the possibility to personalize the design.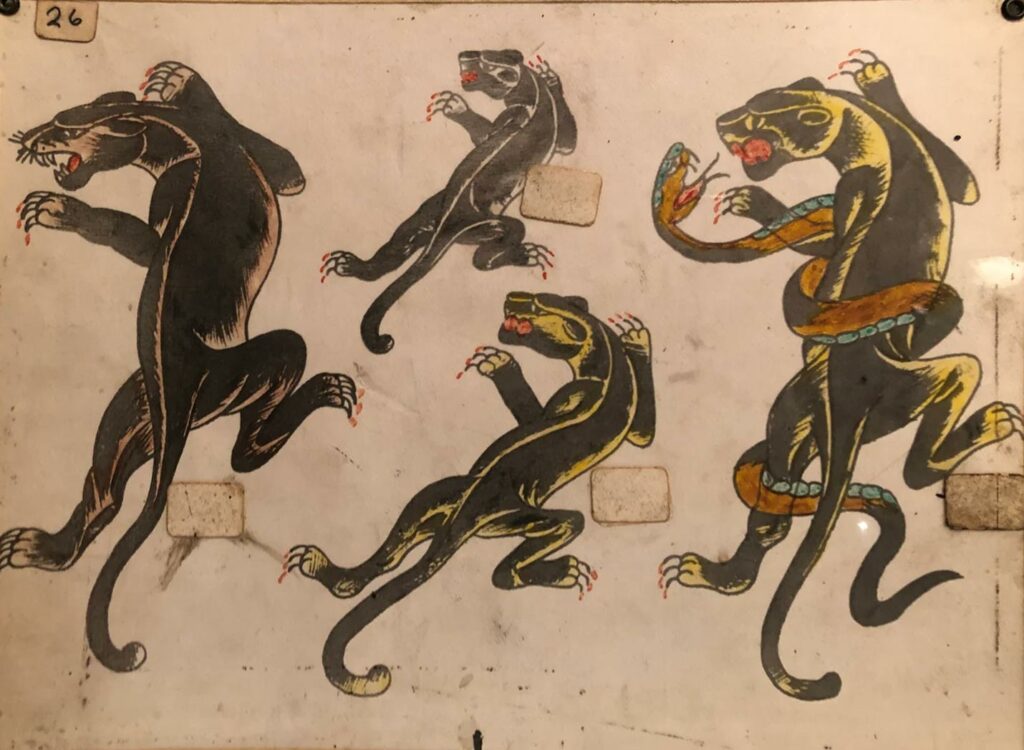 Screaming eagles and deadly snakes
Combined together they also become the very famous "Battle Royale". Some of the most loved designs for the back and front are in fact eagles and snakes. Depending on the size and body part these designs can be a fun idea for a walk-in tattoo.
Do you prefer to get a wonderful snake in Japanese style? No problem, we've got you! But keep in mind that a full body Hebi might take a little longer, which is why we recommend emailing us first to ask for available time slots.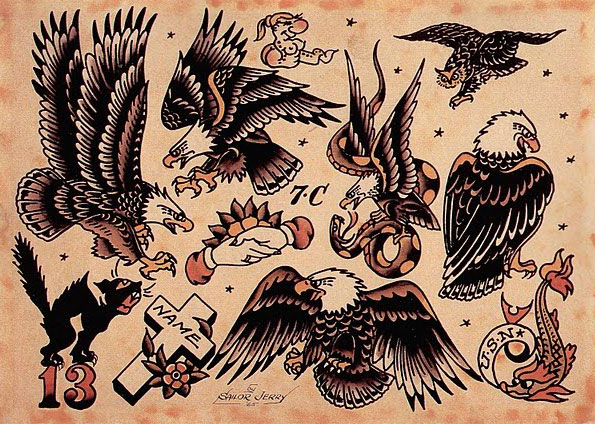 Fineline and small fun Designs
Do not be shy! Although we specialize in Japanese and Traditional tattoos, the walk-in service is for you too. We are happy to guide you on your journey and offer you the best options. In addition to our big projects, we also do fineline tattoos such as names, lettering, dates and small fun designs. Especially with small tattoos we always focus on long-term durability. If you want a too small and very detailed tattoo then we have to refuse. Just like we don't do tattoos on fingers and toes. If you are unsure about your tattoo or if you just want some advice or information, stop by the shop in person. We are happy to help you 🙂
Custom Walk in tattoos are fun
For the gods sake of tattooing, keep in mind that custom tattoos should be fun for both parties. We want to help you get the best tattoo on earth. To do this we also need your help, we can't do it all by ourselves. The more information you can give us about what you would like to have, the more we are able to help you.
Walk-ins are as always first come, first served and are only done if there is extra time. As we are very busy and always quickly fully booked we strongly recommended to pass at the beginning of the opening hours, to increase the possibility of finding slots that are still free. If what you want can be tattooed, we'll give you the first time slot available for the day. In the meantime you can enjoy your time in Berlin, without sitting in the shop for hours. When in Berlin on a specific day only or for a limited period of time, we advise you to contact us in advance to reserve a slot.
If you don't want to contact us in advance then you can also spontaneously stop by the shop and choose a design from one of our flash books. But please note that at this point we cannot make major changes to the design or prepare a completely new one for you.
i'm undecided
If you are undecided or don't know what you want at all, then coming as a walk-in is not the best option. At some point we have to deny you. We offer for the undecided an appointment for a consultation on another day. In this consultation we work together on a Japanese or Old School design that you feel comfortable with. Saturdays are not made for consultations !!!
Conclusion
Custom Walk-in tattoos in Berlin are for everyone, but not every tattoo can be done spontaneously. An excellent preparation is the key to a perfect tattoo. If you have any doubts or questions, write to us at info@goodoldtimestattoo.com, use our contact form or just pass by in person. With our 20 years of experience we are sure that together we will find the best option for you 🙂
See you soon at Good Old Times Tattoo Berlin!