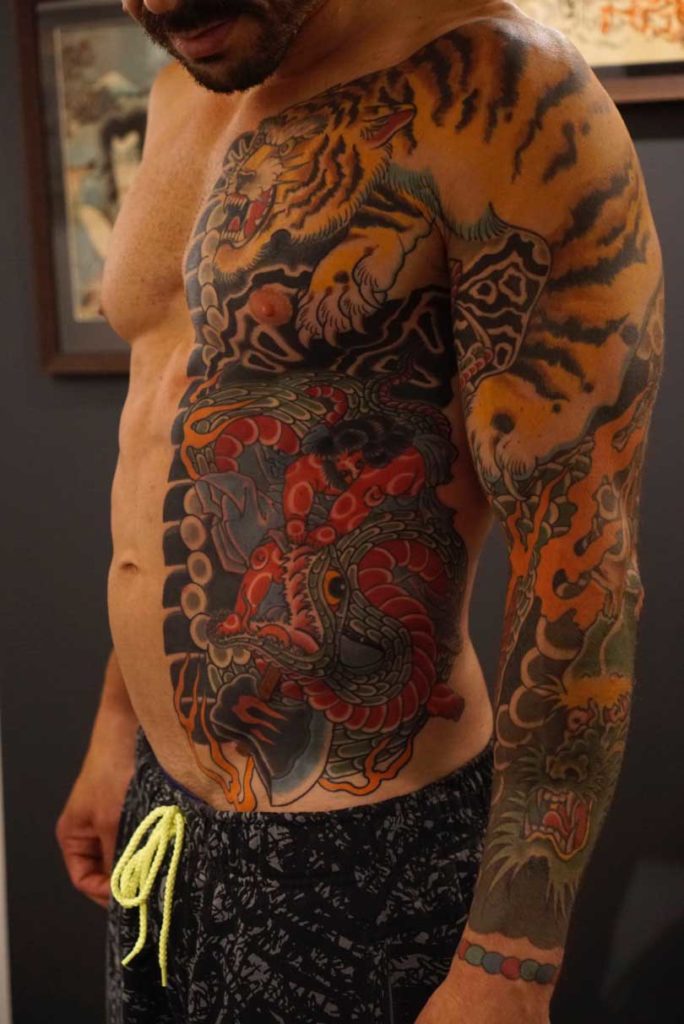 At Good Old Times Tattoo Matteo and Swen are dedicated to the subject of Japanese tattoos in Berlin, both in their own way.
Tattooing has a wide variety of styles. Some are suitable for inexperienced newcomers, others need a lot of know-how and many years of experience. Japanese tattoos, also called Irezumi, belong to the latter. Matteo Schmidt and Swen Losinsky tattoo in the Japanese style at Good Old Times. But both have a very different background.
Matteo
With Matteo, it is the long-standing study of Japanese literature and philosophy that works as his main inspiration. He especially makes smaller designs. Such as diverse yokai, flowers, noh masks, etc. that are well suited as gap fillers or starter tattoos and can easily be combined into a larger project later in time.
Swen
On the other hand, Swen comes from the American Traditional style. Especially when creating large-scale projects, this style is partially limited due to the lack of background information. As a result of the ever increasing number of projects, Swen's style has shifted from Traditional to Japanese. Thanks to the dynamic backgrounds, japanese tattoos can be ideally adapted to the body and thus have a special aesthetic that emphasizes it.
Because of his 14 years of experience and the dedicated study of japanese tattoo art, Swen's tattoos are very clearly structured. Thus, they are still clearly recognizable and readable even after years.
Myths and legends
Japanese motifs are particularly exciting in terms of their multiple meanings. In the upcoming months, we will gradually introduce you to the facets of japanese tattoos in Berlin. Let yourself be inspired by the coming stories about Yurei, Samurai, Suikoden and other characters of japanese culture.
If we pick your interest visit our shop and browse through Matteo's and Swen's works. During a personal conversation, we will find the ideal motive and develope a concept with you that will lead you to get an authentic Japanese tattoo.