Swen Losinsky flew to London to the Hamiltons Gallery to visit Mario Testino's exhibition "East". The renowned photographer featured 18 prints that thematizised the rise of Irezumi and compromises two subjects matters: Japanese flowers on golden screens and vividly tattooed men intricately entwined.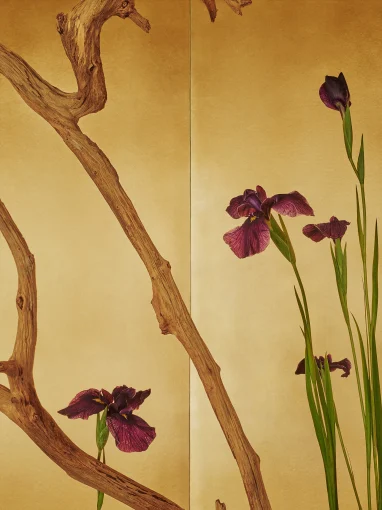 Flowers in the floating world
Inspired by traditional 'Ukiyo-e' (pictures of the floating world), the flower still lifes are one of the most admired genres of Japanese art. Artists typically created them using woodblock prints and painting. Each of the seasonal flowers captured by Testino signify distinct ideas: Truth, splendor, humbleness and sincerity, culminating in a floral display rich in Japanese heritage. Most used flowers for bodysuits are cherry blossoms, chrysanthemums and peonies.
Irezumi
In contrast to the delicacy of the flowers, Mario Testino photographs heavily tattooed men. Horiyoshi III, the most famous Irezumi tattoo artist in Japan, tattooed each of these men. At the beginning of the Meji period, in the late 19th Century, the government banned tattoos. Irezumi became associated with criminality and the Yakusa. In portraying the artistry of the tattoos, bodies interlocked, Testino exposes this incredible tradition in all its glory.
Suikoden and Ukiyo-e
Often seen on bodysuits and big sized tattoos are pictures from the "Ukiyo". In 1827, with the rise of Ukiyo-e woodblock prints, the artist Utagawa Kuniyoshi decided to make a series of prints. This series was based on a popular book about legendary outlaws called Suikoden. They became wildly popular and people started getting the characters tattooed on their own bodies. They believed that they would take on the strength of the figures. The traditional Japanese tattoo, Irezumi, was born.
Missed it?
If you missed it don't worry. Swen has a great book about the Suikoden and other great designs from the floating world and the rise of Irezumi. The Edo period is such an amazing source of inspiration! If you stop by the shop you will get the chance to have a look at the huge Good Old Times Tattoo private collection about Japanese tattoo designs.
If Mario's photos inspired you your next tattoo project, book your appointment through our contact form.
We look forward to starting a new project with you!!
Your Good Old Time Tattoo Team