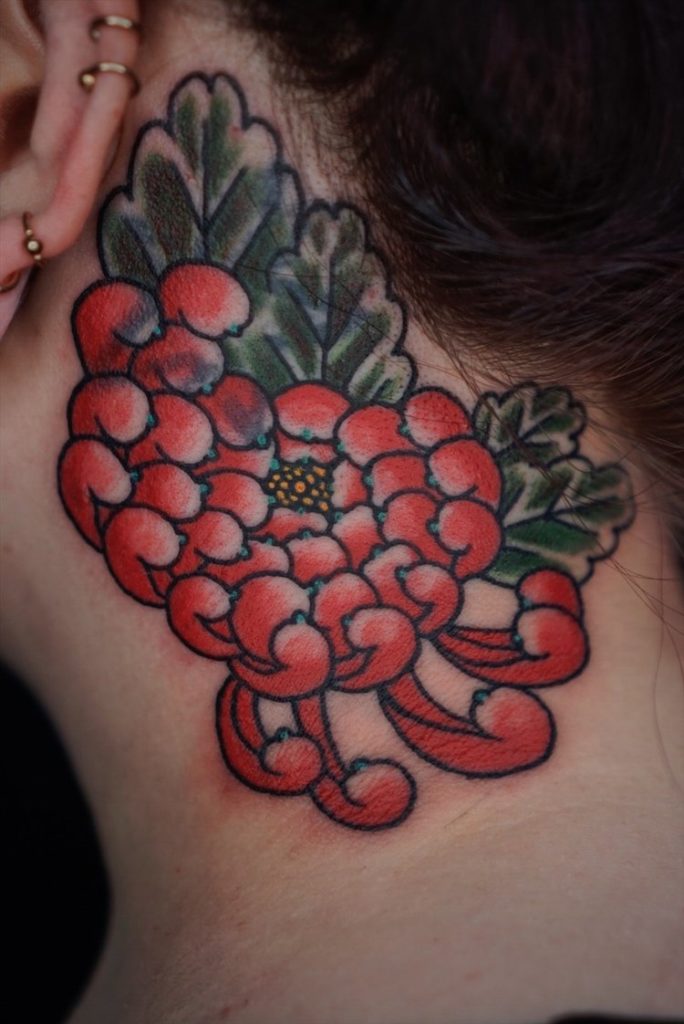 Can you still see the star? Swen Losinsky has made a name for himself with his cover up tattoo´s far beyond Berlin's borders.
Create a beautiful tattoo instead of a black spot
His philosophy is to create a beautiful tattoo on the old unloved one without using massive black areas that would suggest a cover-up. Even if the old tattoo shimmers through, it is not perceived by most people. Look at this chrysanthemum tattoo. Thanks to the powerful colors and subtly set details, the eye is directed away from the old star. No massive black shading is needed.
Tribal and Scar Cover Up
Unloved tribals, on the other hand, can be masked with large-scale Japanese concept works. Scale structures of kois and dragons are just as outstanding as the backgrounds of this style. In addition to old tattoos, Swen also covers scars and skin irritations. "There is nothing better than giving back to the customer his confidence. No more hiding on the beach or in front of a partner, just a better attitude to life." Especially women with scars from a cesarean or failed breast surgery have left Good Old Times Tattoo as new human beings.
Emotions
Before creating an idea how to create a new tattoo Swen needs to talk with you in Person. First priotity is to find out what is the main problem. Is it really the tattoo itself or its more then a emotional problem. The customer needs to understand, there is only one chance left and Skin is not a paper. If its a second time damaged its hard to fix it another time. If its a emotional problem you should fix this first before thinking about a cover up.
You are unsatisfied with your old tattoo, or if you get bad memories when looking at a scar in the mirror? We are happy to help you with a nice cover-up. Just come by the shop to arrange a meeting so we can get an idea of the "problem".