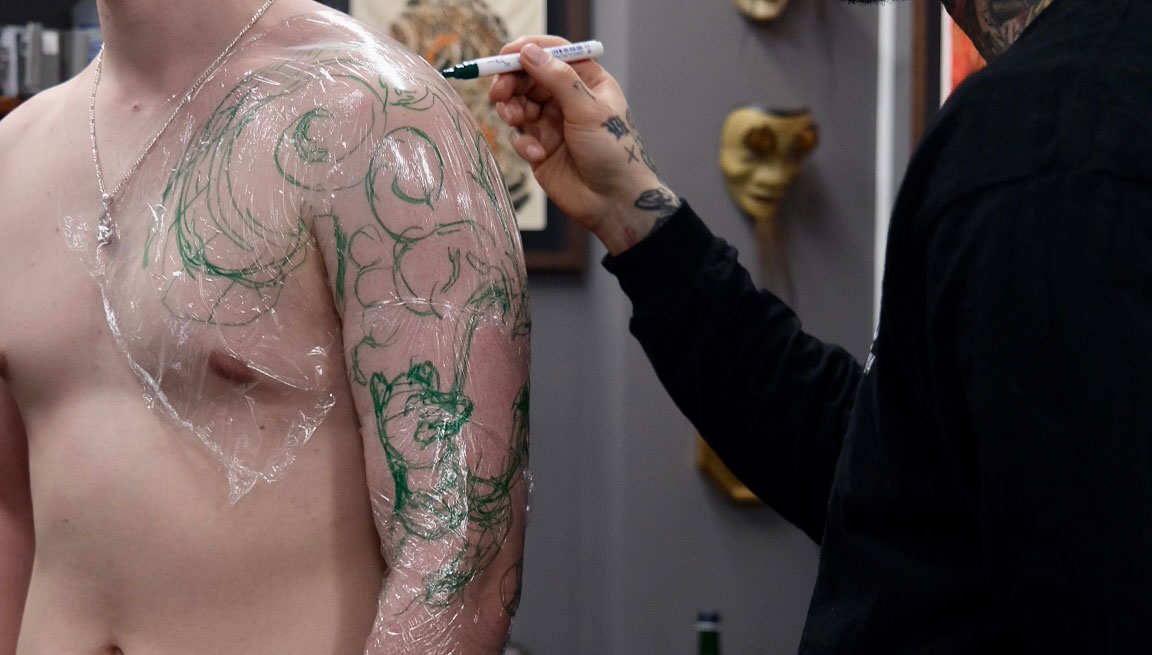 Curious to know more about a typical tattoo consultation here at Good Old Times Tattoo? Read below and learn more about it.
UNIQUE TATTOOS
In a world where everything is the copy of a copy of a copy of a copy of a copy we stand for unique tattoos, made for unique people. How would you feel if while strolling around you would see another person with exactly the same tattoo you have on exactly the same spot?? Rather anonymous and part of a tattoo mass production.
This is exactly what we want to avoid. Every single custom tattoo that walks out of our shop was created specifically for you only.
How is it to feel special? Beautiful, isn't it? Exactly like this we want each of you to feel once you leave our shop. SPECIAL.
WHY A TATTOO CONSULTATION
As you all can imagine, preparing a custom design means a great commitment in terms of time and energy. We love to do our job with due professionalism and calm and give you all the necessary attention. For this reason we offer, when we deem it necessary, real consultation appointments. This way we are going to be able to properly prepare your tattoo design.
Whether this is going to be your debut tattoo or your tenth, we will make sure to give you the best consultation advices. We will ensure you get the tattoo of your dreams.
WHAT HAPPENS during A tattoo CONSULTATION
A consultation appointment it's a chance for both the tattoo artist and the client to get to know each other and learn about both side's expectations.
You will mainly discuss about the tattoo design itself, the style, the size, the placement and last but not least the price. All this to make sure you're on the same page.
Very important for you to know: We tattoo for passion, not for money. The good name of our shop links in fact to the quality of our work. This implies that, sometimes, we have to decline some tattoo requests. If we do not believe that the final and long-term result will be optimal then it's a no-go.
In the end, the whole point in creating custom tattoos is to create a solid design that perfectly fits you and that will still look good after years.
HOW LONG DOES A TATTOO CONSULTATION LAST
Our consultations always last 30 minutes, more or less.
If we deem it necessary, after the first consultation a second one is going to follow. This could happen in case of a large scale tattoo project, such as a Japanese back piece.
During the first consultation you will brainstorm together with the tattoo artist and decide the general lines of the tattoo.
During the second consultation the tattoo artist is going to show you the sketch of the tattoo concept he prepared for you. So don't be disappointed if you are not shown the exact final design. After you approve the concept work, the final design will be shown to you on the day of your tattoo appointment. So please, if you are not sure about something, speak up during the two consultations. Once you come to the tattoo appointment we can no longer make changes to the design.
The second consultation is automatically booked after booking your tattoo appointment. It is therefore not possible to get a second consultation without having booked a tattoo appointment first.
After the first consultation you have time up to two weeks to book a tattoo appointment. If you wish to book a tattoo appointment after weeks, months, years, you will need to pay a new deposit and book a new consultation.
Please understand that we have many clients and lots of consultations per week. After two weeks, all material from consultations that do not turn into a tattoo appointment is deleted/trashed. This prevents us from being buried alive under hundreds of sketches and photos of consultations that never became a tattoo.
IS THE TATTOO CONSULTATION FREE OF CHARGE
Yes, the consultation itself is free of charge.
Nevertheless, we need a 50€ deposit in order to book you in. We are then going to use it as part of the deposit you need to pay to book your tattoo appointment. For big Japanese project you will need to pay a higher deposit fee.
If you don't show up to your consultation, if you're late or if you decide against the tattoo, we are going to clear the deposit. It works for us as a service fee.
DO I ALWAYS NEED A TATTOO CONSULTATION
No, not necessarily. For each customer we will individually decide if it is necessary to proceed with a consultation appointment.
You may not need a consultation if your design is simple, such as a small script, date or symbol. However, we never book a tattoo appointment without having had a short personal chat first.
I'm not sure I want a tattoo, so I don't want to pay the deposit
In our eyes planning a tattoo is a commitment on both sides.
Being exclusively specialized in custom tattoos means that we are never going to just print an image from Pinterest and tattoo it on your body right away. Everything gets customized by us to fit you and your body perfectly. This of course implies us putting a lot of energy, work, time and knowledge into it. We brainstorm with you and for you, to offer you the best experience ever and the best possible tattoo option.
Therefore, if you're not sure you want to invest your time and money in it, then we as well can't invest our time and knowledge into advising you.
It is absolutely normal to be afraid or insecure at times about wanting to get a tattoo, we understand that. So if that's the case, rather take time to think about it. We are always happy to see you coming back and would be glad to then offer you our time.
what if i don't like the design on the day of the tattoo appointment
It can certainly happen that on the day of the tattoo appointment you want to change a few small details of your design. This is absolutely not a problem. But if you don't like the full tattoo concept, we will then have to postpone your tattoo appointment. In this case we clear the deposit. To book a new consultation and tattoo appointment a new deposit will need to be payed.
We offer consultations lasting a full half-hour exactly to avoid such situations. It is your responsibility to speak up clearly during the consultation about what you want and what you don't want. After the consultation a design will be prepared according to your directives. So make sure to be sure about what you want.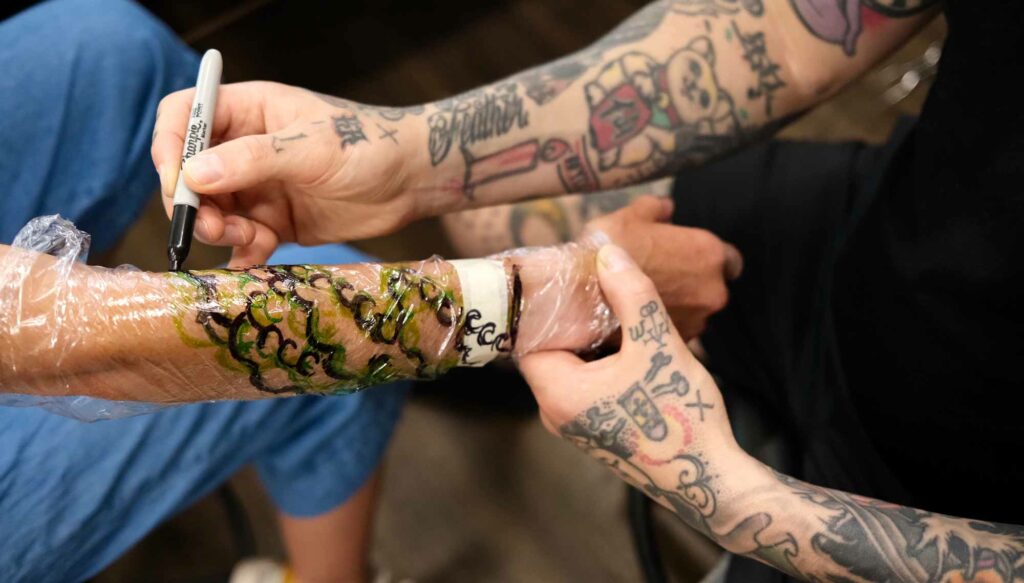 SPEAK UP ABOUT HEALTH ISSUES AND ALLERGIES
You may have some existing health issues. We recommend telling your tattoo artist everything relating your physical health.
Diabetes, postpartum issues, HIV (AIDS) status, Hepatitis B (HBV), Hepatitis C (HCV), chemotherapy, skin problems, bleeding disorders, allergies, are just some of the things to chat about before a tattoo.
Don't neglect to mention if you're on any medications. For example, blood thinners can cause you to bleed more, which can be dangerous as well as messy.
Discuss any allergies and/or health concerns during the consultation, BEFORE the tattoo appointment. If on the day of your tattoo session for reasons related to your physical conditions our artists cannot tattoo you, your appointment will be canceled and the deposit cleared.
Despite what you may think, your tattoo artist won't judge you. Everything you will discuss during the consultation is confidential.
WHAT IF I CHANGE MY MIND ABOUT THE DESIGN
Your tattoo artist has already put a lot of time and effort into crafting your design. If you want something entirely different, we are going to reset your old consultations. You will then need to schedule a new consultation appointment. In this case we are going to charge you starting at 130€ per hour.
We only book consultations after having had a personal chat with you first and only if we are sure that your desired tattoo can work. If on the day of the consultation you come with a completely different idea, we may have to cancel your appointment and clear the deposit if we believe that your new request may not work for any reason.
CAN I BRING SOMEONE TO THE TATTOO CONSULTATION
Look, we are really happy if you feel like sharing this moment with someone you care of. But don't forget this is not a bar. Other tattoo artists may be working and in need of absolute concentration. Would you like if while getting tattooed next to you a group of 5 people would loudly discuss about a tattoo design? We don't think so.
It is anyway always advisable to discuss your future tattoo alone with the tattoo artist. Very often the ideas of friends and relatives, despite being in good faith, deviate what is your real tattoo desire. Too many opinions would also waste the time of a tattoo artist who has other appointments to devote himself to.
So please, always come to your appointments alone.
CAN I TAKE A PHOTO OF THE DESIGN
When our artists prepare a custom tattoo design they put all their experience, secrets, knowledge and energy into it. What to you might look like a simple sketch probably took up a lot of the tattoo artist's private time.
So no. You absolutely cannot take pictures of the designs, as well as you are not going to receive designs by email.
Your mom will need to wait till you get the tattoo 😉
DON'T BE LATE
It may not affect you to come in 5 minutes late, but our schedule is very tight. Your delay could completely spoil your artist's program for the day.
If you are late you'll also have less time to plan a tattoo that will forever be on your skin. If your delay is going to make it impossible for your consultation to still take place, we will need to schedule a new consultation and you will have to pay the deposit again.
CONCLUSION
THE DEPOSIT IS NOT REFUNDABLE.
It covers the damage of a free slot we have in case of cancellation or last minute postponement.
You cancel your consultation appointment, we clear the deposit.
You don't show up to your consultation appointment, we clear the deposit.
You postpone 3 working days prior to the planned date, we transfer the deposit to the new consultation appointment. If you ask us to postpone less than 3 working days prior to it, we clear the deposit. To book a new appointment you'll need to pay a new deposit.
You postpone your appointment more than 3 times, we cannot guarantee that we will still offer you our time. In this case, if you have already paid a deposit, we clear it.
If for any reason we need to postpone your appointment, we transfer the deposit to your next appointment. We are also going to make sure to offer you various possibilities for your next consultation date. If you decide to cancel your consultation, we clear the deposit.
The deposit is nominative. If you cannot show up to your appointment you cannot give your slot and deposit to someone else.
After the consultation we use the deposit as part of the deposit you need to pay to book your tattoo appointment. On the last tattoo session we are going to pay it off.
We look forward to creating new exciting tattoo projects with you! 🙂 For any inquiries use our contact form to book your consultation appointment.
Your Good Old Times Tattoo Team