Your taste, our responsibility
At Good Old Times Tattoo Berlin we always focus on tattoo art and persistence. Our tattoo artists are always happy to create the perfect design for you and turn your idea into reality.
Tattoos built to last
The process of creating a custom tattoo is a dialogue between your taste in art and the possibility to translate this into an actual tattoo.
We have to make sure that the design is actually tattooable and will stay solid overtime. This means that you might need to be open for some changes with regards to the original idea. We don't judge your taste, but know better what's technically good and how to make a tattoo last forever in the best condition possible.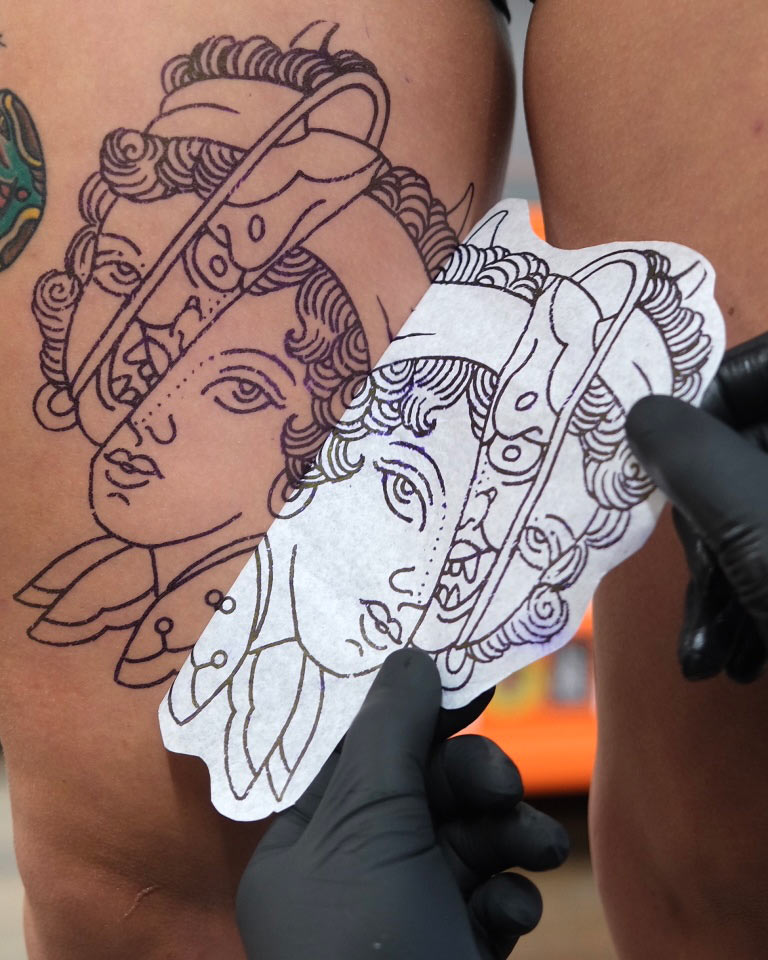 The craft of tattooing
You may think that your tattoo will stay forever exactly where and how it is right after your tattoo session, but this is not going to be the case.
We work on a constantly changing canvas, that ages and changes depending on environment and lifestyle (in terms of nutrition, hygiene and so on).
You see, it's a craft with many variables, because every person, skin and lifestyle is different.Our part is to:
work out a functional design
figure out a smart placement
choose the right size
execute a clean tattoo
How to care
Your part is to trust our artists opinion and to stick to proper aftercare.
You can have a look at our precious post about the before and after care.
Through Swen Losinsky's many years of experience in tattoo art and persistence and thanks to the high preparation of his coworkers, we are confident to fulfill our part of this trade as well as possible.
Tattoos for life, not for likes
Ours is a shop that thinks about tattoos as something that is more than just a good picture made for social media. That's why we considre Good Old Times Tattoo a real traditional shop. A tattoo is a statement that accompanies you through life and should stay solid through time.

If you would like to book a consultation to discuss about your next tattoo, or simply want to get a better understanding of why we do things the way we do them, you are very welcome to reach out to us and schedule an appointment. You can use our contact form or email address info@goodoldtimestattoo.com.
Looking forward to see you!
Your Good Old Times Tattoo team.